Bronco's Bronco History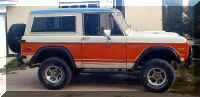 As far as the history of the Denver Bronco's Bronco, details are sketchy at best.
What we know:
Golden Motors Ford, Golden, Colorado's Fleet Sales Manager ordered the DSO 763000 Bronco as a one-time Front Range Dealer Promo. The former owner told us, the Fleet Sales Manager had the idea and put the whole thing together with Ford after Ford Colporate had offered the Broncos to dealers nationwide as a one-time deal. The Broncos had apparently been manufactured and prepared by Ford for Bill Stroppe to become Baja Broncos in late 1974 as 1975 models. However, Bill Stroppe abruptly and without notice, ceased doing business in November of 1974 for unknown reasons. Ford was likely trying desperately to liquidate these specially painted vehicles as they were now surplus without a home. I'm sure selling them was easier than repainting them. Therefore, all of the "initial" Denver Broncos Special Edition Broncos were 1975 models with manufacture dates on the drivers side door sticker of 11/##/1974 or earlier.
Golden Motors Ford's Fleet Sales Manager had been selling Stroppe Baja Broncos for years to Denver Broncos fans because they matches the team's colors so well so naturally this offering from Ford was a great opportunity for them to offer a Denver Broncos Special Edition Bronco.
The ex- owner also said that the numbers ranged between 50 and 100 total "initially" delivered were delivered between December 8th, 1974 until December 21st, 1974. Apparently, all DSO 763000 Broncos delivered to Golden Motors Ford and then redistributed to other dealers in the area. I have talked to several Denver residents that remember the Denver Broncos Broncos all lined up at the dealer, they all say it was quite a seight to behold.
The ex-owner also said there were a few produced all Wimbledon White with an orange Ranger stripe kit and/or all Calypso Coral with a white Ranger stripe kit and a blue roof painted by the dealer later in the spring of 1975, these were ordered as supplies of the "Stroppe Prepped" vehicles dwindled, however, Ford refused to paint them two tone as the originals had been.
We also have heard the Denver Library has old microfiche newspaper ads that I plan to publish on this site soon.
Again, not all of this information is verifiable. There are still no known actual numbers on quantities and models nor were there records kept by Ford or the dealership. I will try to verify any of the information I can.